We can now offer level 3 courses fully funded.
To be eligible for this level 3 course you need to check the restrictions in place on the more information page.
Dementia Care Level 3 (Restricted Funding)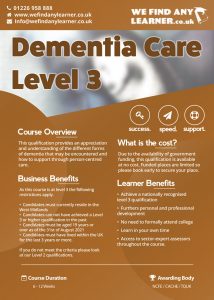 The course aims to provide candidates with an understanding of the common types of dementia and their causes. It will help learners to develop an awareness of how the actions of others can affect individuals with dementia and provides candidates with an appreciation of a person-centered approach to dementia care and support. It will be invaluable to anyone who supports a client, friend, or family member who has dementia.
End of Life Care Level 3 (Restricted Funding)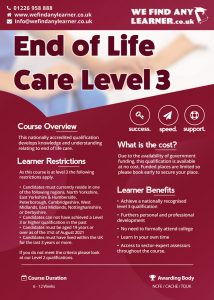 The course aims to develop the learner's knowledge and understanding of: the different perspectives on death and dying; the aims of end of life care; the principles of person-centred care planning; the support needed to manage pain and discomfort; how dementia impacts an individual's end of life care; the role of the health and social care worker at the time of death, and how to appropriately support the bereaved.
Understanding Autism Level 3 (Restricted Funding)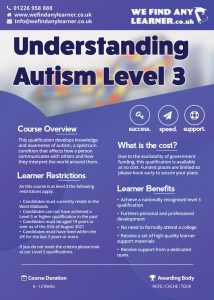 This course will give you an understanding of autism and the principles of supporting individuals with autism. You will look at the person-centred approach and the influence that positive communication methods can have and will gain an understanding of how individuals with autism can be supported to live healthy and fulfilled lives.